211b
Describing the Internet
How would you describe the internet? Is it a vast series of tubes? A superhighway? An organism? Where this gets difficult is that sometimes we lean toward more static descriptions of the information channels, like "tubes" or "web", while other times choosing descriptions that focus on the activity of the web, like "superhighway." (By the way, contrast the metaphor you thought of with those listed in this study from 2000, Making sense of the Web: a metaphorical approach.) I recently ran across two blog posts that are doing some more current thinking on this matter.

One came from Tim Malbon in a blog post titled, The Web as a Column of the Ocean. Malbon describes the current state of the web as comparable to the ocean, which has different levels based upon the life that thrives (or does not thrive) at various depths. Here's an interesting quote:
"At the very top, in the seething surface layer of the Epipelagic the Web is a boiling mass of life. A rising storm of thrashing users. An unimaginably massive number of interactions. The waters are hot. Currents flow fast. Waves crash and spume flies as millions of short messages rip back and forth across the surface. Links and people collide in a foamy chaos of tangling and untangling networks... This top layer - the scalding Photic cauldron of short messages and streaming data visualisations - is where it's at. The top layer has become a lens for finding content further down. The surface is now where I look for new stuff, where I ask questions (search) and where I discover the vast Web of sites, pages, documents and content hanging lower down in the depths. This layer is connected to that which lurks below through trillions of filaments and capillaries."
The other example came from Mike Arauz's blog post, Visualizing The Network Structure of the Internet. After reading Malbon's post, I wondered, if the top layer is "where it's at," how do we manage to navigate it, especially since it seems to expand faster than the rate by which we can even hope to organize it. Arauz seems to answer the question here:
"This is why things that blow up and become hugely popular on the web do so at the top strata. Because there's so much mixing and overlap. However, the lower strata are crucially important. Because of their more narrow focus and secluded environment, they create a qualitatively different relationship between the explorer and their discovery."
This makes a lot of sense to me. It's in the connections between readers at the top that the filtering occurs. See, my big question was how, in the Epipelagic layer that Malbon describes, anyone actually finds anything. But the answer was in Arauz's post itself. Before reading it, I had never heard of Tim Malbon. But because I had already been connected to Arauz, I eventually found information by adopting his connection to Malbon. Arauz's description looks a bit like the structure of a fractal, in which each endpoint spawns more connections. With a structure like that, one needs only to be connected to a small group of people or sources in order to ensure that they receive a comprehensive sample of information. Of course, knowing who to connect to is not always that simple, but I think this "trickle out" approach works. At least, I've found it to work for me. What about you?

By the way, here's an interesting take on visualizing the internet from Kevin Kelly's CT2 blog: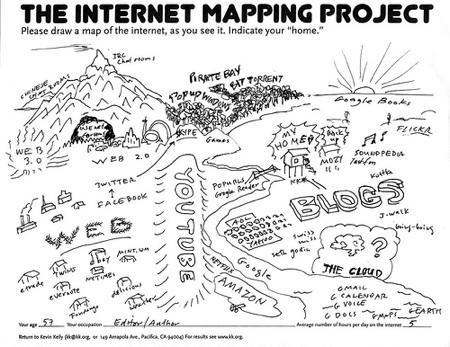 860d